ABW-320 [Limited quantity] The female manager is our sexual treatment pet.045 Rakusaku Au Bonus DVD
【数量限定】女子マネージャーは、僕達の性処理ペット。045 粒楽あむ 特典DVD付き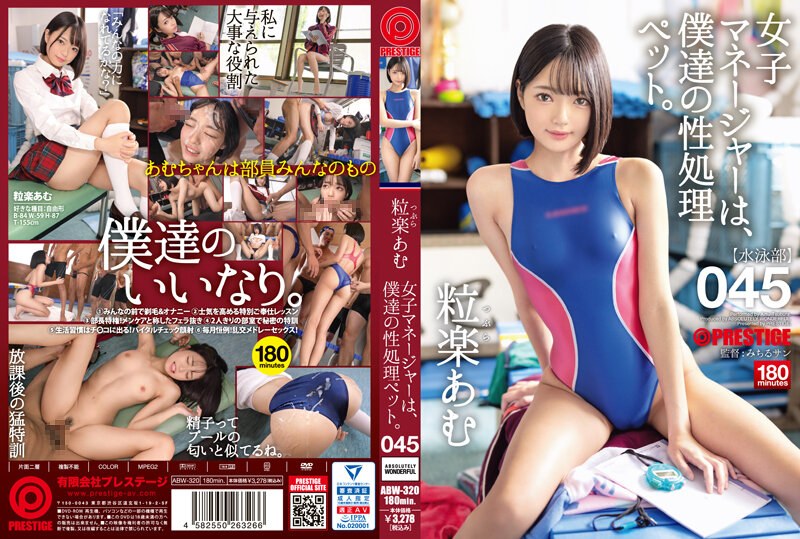 Prestige exclusive actress "Grain Raku Am" is a beautiful manager of the swimming club!In this club activity, there was a secret tradition that the sexual processing of the members was performed by the manager …!Everyone masturbation to increase the morale of the members!Surrounded by Ji -Po, you can sprinkle a lot of sperm on the buttocks!Mental care is special for the director who can easily accumulate stress!Serve with a polite blowjob and accept the accumulated sperm in your mouth!Check the sperm depth to check the health status of the members!Promote everyone's ejaculation with handjob and blowjob!In the monthly orgy medley sex, Ji -Po is thrown into Mako one after another, and finally catches a large amount of sperm on the face!The female manager "Grain Raku Am", which is responsible for the practice support to sexual processing, leads the members to height!
This product is subject to "Price Guarantee of Reservation Products".Please check this out for details.
This product is eligible for "convenience store receipt".Please check this out for details.
"Summary/Division" It is a product that is not eligible for function.Please check this out for details.
Date: January 19, 2023